Depending upon the preferred mode of accommodation, food, and travel, you can make a budget according to your own requirements. However, this guide will help you get an estimate of what it can cost you per day to travel around the city.
The currency of the country is Moroccan Dirham (MAD), and you should get an adequate amount of the local currency along with dollars and plastic cash on a trip to the country.
Accommodation
Accommodation will be higher in popular cities such as Marrakesh and Fez when compared to other parts of the country.
An average dorm room can cost a solo traveler anywhere between 50-100 MAD.
Budget hotels will begin at around 130 MAD per night for a double room.
Private rooms in hotels will easily cost around 250 MAD per night.
Food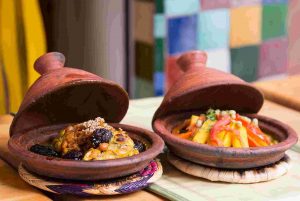 You can save a lot of money on eating if you are okay with having the local food. A diet that consists of fish and meat is a staple, and the flavor might just suit your taste palate.
A pot of mint tea will cost 10 MAD in the local market.
Local dishes such as the popular tagine, a delicacy of meat and vegetables will be around 35 MAD per plate
Sandwiches, pizza, and other such dishes will be available for 30-50 MAD.
A one-time meal at a fancy restaurant will cost you 100 MAD per person.
Beer and wines will be available at a rate of 70 MAD in some areas.
Travel and Activities
Navigating around the cities of Morocco can be a tough job. While the intercity bus service is fairly reasonable, traveling within a city can take a toll on your pocket. Make sure to negotiate the prices with the driver upfront.
Another way is to take one of the shared taxies which can accommodate anywhere from 3 to 6 people in a single journey. Keep aside at least 500 MAD per day for traveling between places.
For those who would want to hire local guides to help them navigate through the city, a full day tour can cost them around 900 MAD. You can avoid this by preparing a detailed itinerary before landing in any of the city.